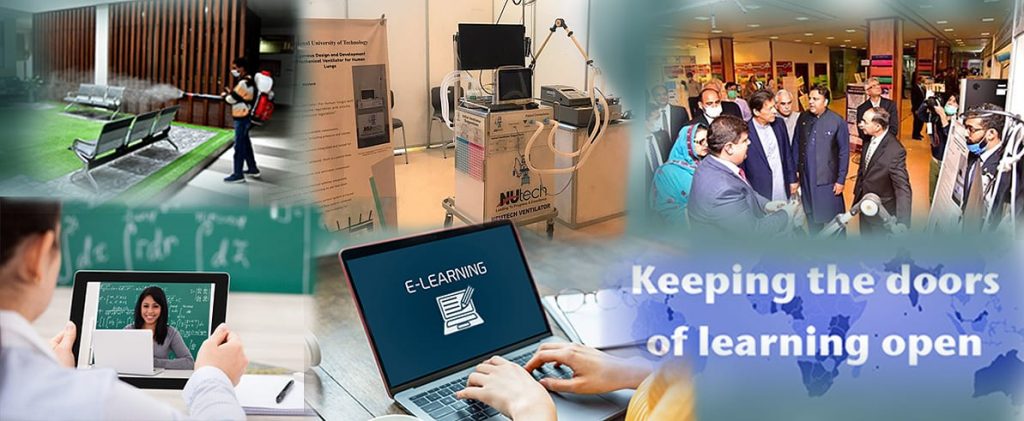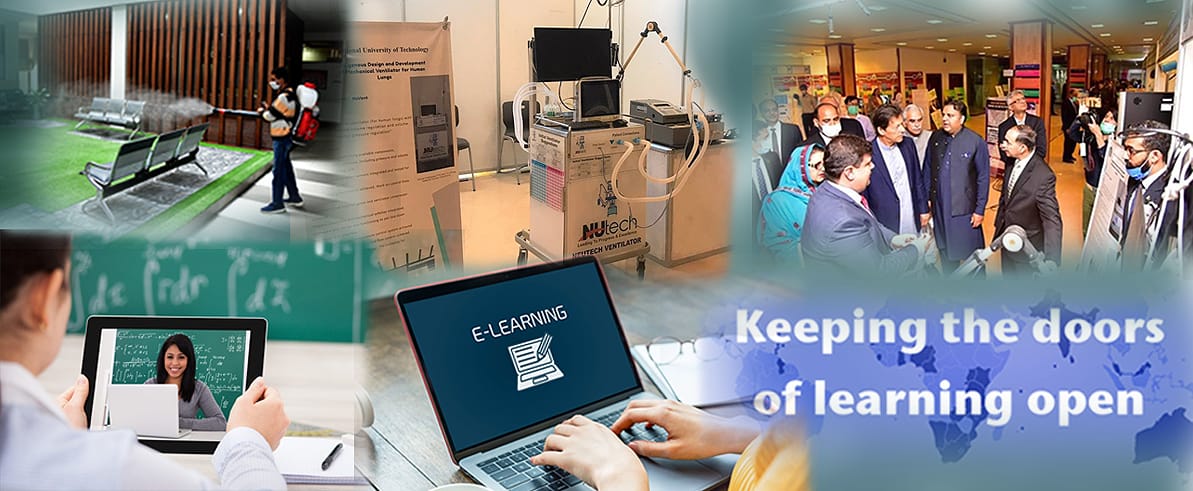 NUTECH initiatives for Online Learning
Consequent upon adoption of measures to cope with COVID-19 and to prevent it spread among the students and the faculty, NUTECH has adopted the e-learning education system for its students. The purpose of this e-learning environment is to ensure uninterrupted educational delivery to the students while not compromising the quality of education. NUTECH has adopted a multipronged approach for online education to bring it at par with the on campus learning as far as possible.
Video lectures have been recorded for all the courses offered in the interrupted Spring – 20 semester. Learning management system (LMS) has been deployed in the NUTECH data centre to aid online education. All educational content including the video lectures have been uploaded to LMS for easy access by the students. Besides, the content is also being couriered to the students on storage media to alleviate the problems related to internet connectivity.
Live sessions are also being conducted through video conferencing platforms like MS Teams/Zoom in which students have the opportunity to resolve their queries and to reiterate their key concepts by interacting with their teachers directly. To cater for the needs of student's lab courses; virtual labs are being conducted through videos, simulation software etc., so that students theory is supplemented by the lab exercises as far as practicable.
Through an e-digital library system, students have access to all reference material as per the requirement. Library VPN services have been made functional for connectivity to HEC digital data bank. Furthermore, NUTECH library's integral digital data bank has been enhanced several times to support the NUTECH's endeavors for continued learning.
While traditional, on-campus learning will inevitably return to prominence once the coronavirus abates, NUTECH continues its efforts by implementing innovative and proactive measures to provide the best e-learning environment to their students.
Rector NUTECH Message
Dear NUTECH Students and Colleagues,
Assalam o Alaikum.

I hope in these trying times of COVID-19 you and your families are doing fine. Due to evolving situation NUTECH has shifted to online studies whereas its offices will remain closed till further orders.

The University expects from all of us to remain conversant with intricacies of online studies and functioning while trying to give our best. At the same time we must adhere to all protective measures against Corona disease for our personal, families and communities well being. Do help out your parents, siblings, children, elderly people and neighbours in coping with any kind of difficulties. Also it would be more appropriate to stay away from rumours and not be totally frightened from COVID-19.

We must seek forgiveness of Allah SWT and make earnest dua for His protection against this disease. Together as Allah's obedient servants and humanity as a whole we shall come out of these difficult times. About your health please keep your Office and Directorate's heads updated. Insha Allah NUTECH shall resume its campus life in near future. Please keep visiting the University web site regularly for updates and latest instructions.

Profound Regards
Rector NUTECH
NUTECH Showcases Indigenously Developed Ventilator to Support MoST Efforts in Fight against COVID-19
National University of Technology – NUTECH in quest for technologies creation has developed a robust Ventilator System to support MoST indigenous efforts in fight against COVID- 19. This NuVent has been developed by Engineers and Technologists team led by Engineer Junaid Aftab in a short time of six weeks. NuVent is about to go into clinical trials in line with procedures of PEC and DRAP. In the same period NUTECH students led by Dr Kamran Javed has also developed 3D Printer which has been showcased in MoST exhibition held on 30th April at COMSTECH. The NuPrint design is being further refined for final tests and trials at University in near future. The NuPrint has potential to undertake all kinds of 3D designs for developing medical equipment besides other applications.
Very young but envisioned as "University for Industry", NUTECH is actively engaged with Pakistani industries for indigenous solutions and their commercialization for the benefit of public at large.
Fumigation by ARINAC INTL at NUTECH Campus
In view of coronavirus dispersion in the country, NUTECH has intensified hygiene measures to combat the spread of the coronavirus. In this regard, fumigation process by ARINAC INTL was done at the NUTECH campus on 18 March 2020, which aims to safeguard the health of the NUTECH family against the deadly coronavirus.